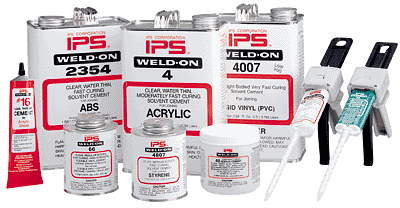 IPS leads the adhesives industry with the most complete line of solvent cements and adhesives for bonding plastics. You can count on consistent, high-quality WELD-ON® adhesives, such as 4, 10, 16, 40, 55, 66 and 4052.
Since 1955, IPS has been known worldwide for developing and manufacturing quality adhesives and cements for joining plastics and other materials. In fact, IPS was the first to produce a reliable cement for use with PVC and ABS pipe and fittings.
Today, this commitment to innovation continues along with the assurance of receiving the highest quality adhesives.
That's why we use state-of-the-art equipment, such as a gas chromatograph, FTIR spectrophotometer, colorimeter, bond strength tester and viscometer to check everything from the raw materials to the final product.